Innovation & Transformation
Together with Ali Bin Ali Holding
Ali Bin Ali Holding navigated through the pandemic with agility and partnership
Ali Bin Ali Holding, one of the largest conglomerate in Qatar, initiated a contingency plan, doubling its stock and swapping its employees into different locations to keep its operations running during the COVID-19 pandemic.
While the coronavirus lockdown forced the 75-year old company to close some of its businesses in the areas of hospitality, travel and fashion, others such as fast-moving consumer goods, distribution and healthcare worked round the clock, to ensure core services in the country were maintained and highlighting the importance of diversification.
Forming a crisis management team, the group enforced a series of protective measures- taking care of its employees first - to make sure its operations could continue unimpeded by the COVID-19 restrictions.
Ranking among Qatar's top private groups, the company booked rooms in three hotels in three different parts of the city to make sure that supplies continue even if one part of its workforce gets paralyzed by a lockdown or quarantine. It also swapped employees among its many different divisions, based on new business needs.
Facing a risk that its inventory could suddenly become out of reach, the management also decided to split the inventory into various locations around Doha and doubled its stock to over 60 days early in the crisis in case shipping routes closed down.

Resilience in a crisis
HSBC supported Ali Bin Ali Holding through HSBCnet digital platform to increase efficiency and special funding arrangements - key to fight COVID-19 adversities. HSBC also supported the Group's operations by providing loans for its staff salaries under the Government scheme.
In an instance when an industrial area in the capital was suddenly locked down, it left approximately 180 Ali Bin Ali employees stuck inside a bottling plant.
In a show of resilience and contingency planning, the whole operation was run successfully for the next 10 weeks by a young supervisor. The supervisor resided in the plant and performed day-to-day operations, with the remote support of the senior management.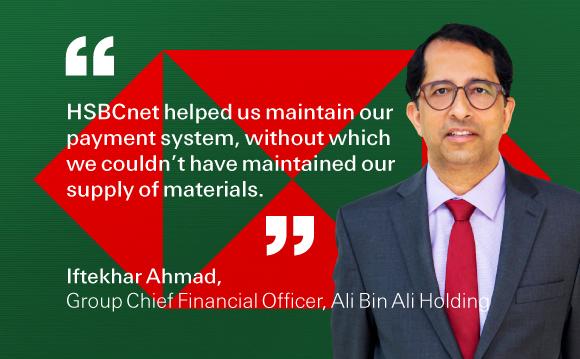 Alternative revenue streams
The group, representing top-end brands such as Cartier, Van Cleef, Audemars Piguet and Richard Mille, launched home delivery of luxury products as an innovation to boost its sales and looks to e-commerce as an alternative revenue stream
With a number of the pre-COVID regional expansion plans in place, Ali Bin Ali Holding is now likely to hold them back for the next couple of months, taking its time to assess changing regulations and opportunities that exist across the Gulf markets.
"We are expanding and have extensive plans for expansion, but I believe that we need to reassess and see how things progress," Ahmad says.
The company continues to closely look at every aspect of its business to decide on the direction in a post-COVID world, highlighting that this will require building a system where digital and working remotely, without losing productivity, will be a key element.